Bunnies & Beyond
February 2023 Newsletter
Issue No. 2
View in browser
| | |
| --- | --- |
| Happy New Year Every Bunny! We are looking forward to continuing our mission of finding permanent loving homes for the abandoned and surrendered rabbits in the NYC area. It is so exciting 2023 is also the Year of the Rabbit from the Chinese Zodiac. May the Year of the Rabbit bring kindness and peace to you. | HAPPY VALENTINE'S! |
February is Adopt a Rabbit month, which helps bring attention to all the rabbits waiting in shelters for their forever home. Rabbits are the third most popular and third most abandoned pet in the USA; typically abandoned in their first year when a family did not prepare enough to properly take care of their rabbit. When a rabbit is bought from a breeder for a profit, it contributes to the over population of domestic rabbits and crowding at shelters.
At Bunnies & Beyond we strive to educate the public of all the benefits of adopting a rabbit. When a rabbit is adopted, two rabbits are saved: the first rabbit who gets a forever home and the second rabbit who gets a spot in a shelter or foster home. When you adopt through Bunnies & Beyond, you are set up for success with support through education; including proper rabbit care and a full description of your new rabbit's personality, quirks, and favorite treats!
Adoption Month Raffle
This month we are hosting a raffle, many thanks to the donations provided from our partners! See the entries below and click to enter any and all of the raffles you'd like.
Speed Dating
With Valentine's Day fast approaching we wanted to highlight the importance of rabbits living in pairs. Rabbits are social creatures and receive many benefits from having another rabbit companion. Rabbits can become lonely and bored by themselves which could lead to depression and destructive behaviors. A pair of rabbits can provide grooming, exercise, playing, and enrichment for each other.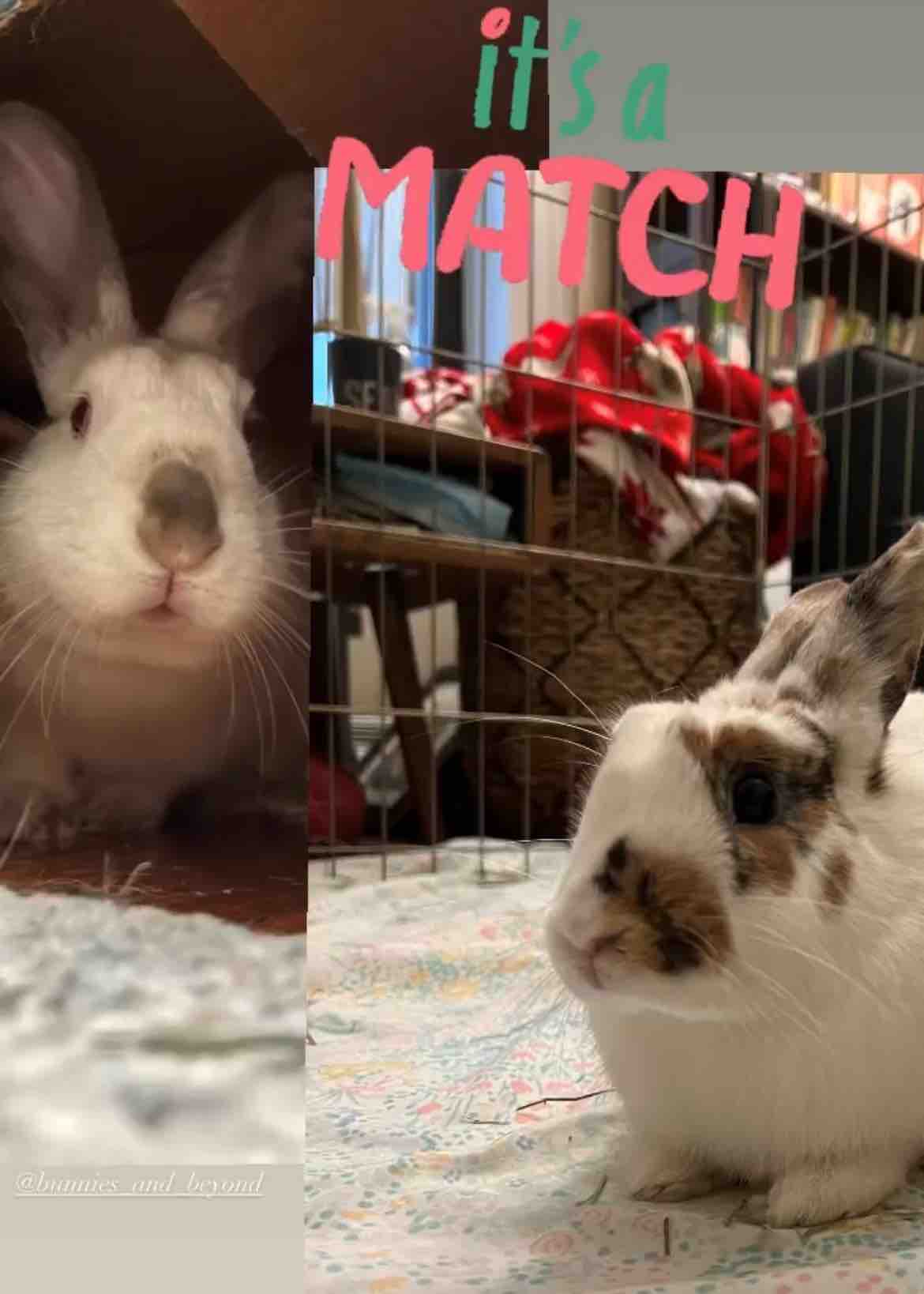 However, not all rabbits like each other and the process of bonding two rabbits can be a long. To help make this process easier and increase the odds of a successful bonding, Bunnies & Beyond offers Speed Dates, where your rabbit can select their own companion! If you are looking for a companion for your rabbit, our experienced volunteers can help by managing one-on-one interactions with several potential partners. You can find more information on our website on what to expect during a Bunny Speed Date for your rabbit, plus you can watch recent speed dates in the highlight section of our Instagram page.
Chase and Casper recently used B&B's speed date service to adopt Penguin to be a friend to Haku. As Chase describes "In our case, we already had a resident bunny but wanted to get him a friend he could flop together and binky around with! We reached out to Bunnies & Beyond and they were more than helpful every step of the way – from the housing setup (side-by-side), to bonding session tips, and even a speed dating session in the beginning to see which bunnies were most compatible with our current bun. From there, we were able to start a foster-to-adopt journey for penguin, who brings so much joy to our lives – couldn't imagine not having her with us now. We feel absolutely blessed to have an organization like B&B, who has answered all the many questions we've had along the way..and you can really tell that they care for their bunnies and want to find the best, loving homes for them. Thank you for B&B!"
Highlighting Bonded Pairs
Milo & Milkshake

Milo & Milkshake were rescued after being dumped in Fort Greene in the rain after a man failed to sell them. These two girls are very energetic, loving to explore new places and give kisses.

Chickpea & Navy

Chickpea was one of many abandoned rabbits rescued in Howard Beach and within a few weeks of settling in at ACC, she gave birth to 5 babies, including Navy. Mama and Son are now a perfect pair.

Fava & Pigeon Pea

Fava & Pigeon Pea are two bonded brothers within the Bean Family. They are shy when it comes to new things but once they get used to it, like a new space or human, then they feel very free to act however they like.

They definitely have a big attitude like two teenage boys -- sometimes it's hard to reign them in but that makes every day always enjoyable.
Student Artwork
In honor of Lunar New Year and Valentine's Day, we wanted to share the amazing art from the talented Green Team at MS443, New Voices Middle School. The Green Team is an eco friendly student club led by B&B's own super star Devon, who heads up our weekly Meet & Greets at Pet Smart.
Our mailing address is P.O. Box 1313, New York, NY, 10028
Unsubscribe